Product Outline

Rack Mount Optical Converter for 6GHz.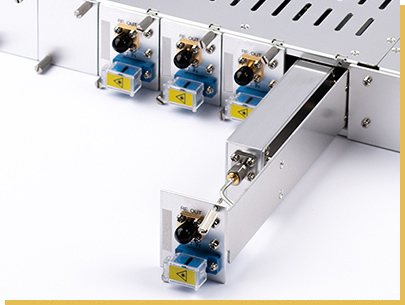 This is a 6GHz band optical converter wich converts analog high-frequency signals into optical ones and transmit. You can easily construct low-loss transmission path by replacing RF coaxial cables with optical fibers.
Features
Mobile 5G(Sub6) bands are also covered and support a wide band, from 20MHz to 6GHz.
Up to 8 sets of E/O & O/E modules can be installed into EIA19 inch 1U size, which enables space-saving and configuration of multi-channels.
Each module can be inserted (and removed) into a slot from rear side. And, structual changes are possible, by increasing or decreasing the number of modules.
When you use it as a single-channel, you can also get a single optical module.
Customizing servise is available, based on this product. We can offer proposal that meet your requirement at a lower cost and faster delivery time.
WDM (Wavelength Division Multiplexing) and redundant configurations are also supported, in which multiple optical signals are transmitted through a single fiber.
Why RoF ?

Merit of RoF (Radio over Fiber)

Analog RoF is a technology that modulates radio signals into optical signals (E/O), and transmits the optical signals in the form of radio signals over a fiber. The transmitted optical signals is converted to radio signals (O/E), which enables you to get original radio signas as they are.
Compared with coaxial cable transmission, this transmission system has advantages, sucj as low-loss, long-distance-transmission, no radio interference. And, you does not have to care about lightning strikes and noise.
Moreover, comparing to popular digital optical converters, this unit has a lower delay, enabling the transmission of radio signals over wide-band.